We make cars for the physically challenged
Unlike other suppliers, we permanently stock a great number of cars from which you can pick the one that meets your specific needs.
You come from far away? We buy and sell our cars all over Germany.
| | | | |
| --- | --- | --- | --- |
| | | | |
| Our cars for passive drivers guarantee safe and comfortable rides, whether it is during the routine daily rides or on journeys. You have the option to remain seated in your wheelchair or to sit on the passenger seat. | Be independent and mobile – our vehicles for active drivers are customised to your specific needs. We will also be pleased to assist you with the new or re-application of your driving licence. | In line with our philosophy »Mobility is the key to quality of life« we either stock or will find the PARTICULAR car which will make the daily routine easier for you, your family and your passengers and improve the quality of life. | You wish to take grandma out for a cup of coffee or take a wheelchair user for a ride? Rent one of our converted vehicles suitable for the transport of passive drivers. |
Handicap Vehicles of all makes
We facilitate the access to a handicap car
Mobility is an important aspect of social inclusion. Whether you drive yourself, are a passenger or drive others – we give you individual advice and offer already converted cars. We can also adapt a car to your specific needs; but you can also buy a new car.
It is essential for the vehicle to meet your requirements. Whether you are the driver, are the passenger in the wheelchair or sit on the passenger seat, we will be pleased to convert various vehicles and present them to you in our showrooms. Take a seat in the car and familiarise yourself with the functions – and take your time! We will find the right car for you in which you feel safe and comfortable!
We offer handicap vehicles of the following makes:
VW, Renault, Opel, Mercedes Benz, Peugeot, Citröen, Seat, Skoda, Fiat, and a lot more.
We make your car even more individual
In addition to our conversion works, we also offer:
• Foiling / tinting of windows
• Installation of sat-nav systems, preheaters and parking assistant systems
• All-season tyres, summer / winter tyres
• Winches / Loading systems
• Accessories such as emergency hammer, transfer sliding boards, transfer turn pads…
Better quality of life for the Gehringer family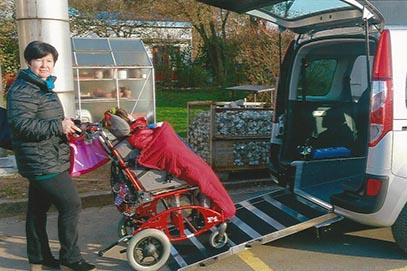 17-year old Regina attends the "Lebenshilfe" Berthold-Scharfenberg School in Bamberg – a school for physically and mentally challenged children and young adults. Regina is a cheerful, sweet-natured and happy child. She cannot speak and is blind, but shows her affection to her family with a smile. Regina lives with her parents where she is supported and lovingly looked after. So far, Regina used the child seat; however, the transfer became more and more troublesome, so that the family had to look for a solution.
They needed a handicap vehicle, in which Regina can be a passenger and remain in her wheelchair. As Regina's mother looks after her 24 hours a day, and as her father cannot work for health reasons, it was a discussion with Regina's physiotherapists that raised hope. She suggested contacting welfare organisations describing Regina's very specific situation. Almost one year. Christina stood up for her sister, had phone calls with and wrote to organisations. Finally, the required sum was granted so they could buy a vehicle for her sister.
We met Michael and Christina Gehringer when they came to pick up the car. We will always have fond memories of them. When we finally handed over the car, their joy and relief were apparent. We wish the Gehringer family all the best, health and many happy moments together!